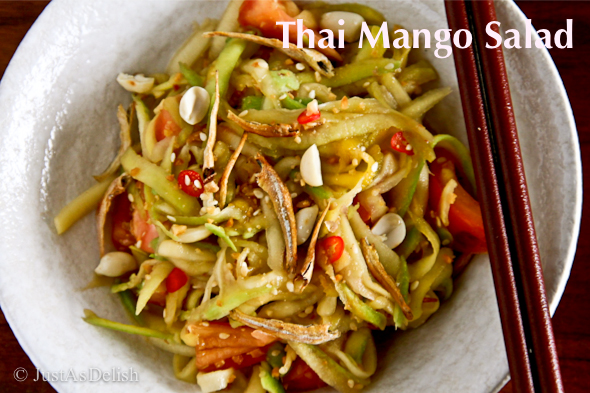 When I was young, we had a mango tree (with 3 other fruit trees) in our first house with huge land space. After we moved to a house with only enough space for 1 tree, my mama chose to plant a guava tree. Yet, we were lucky to be showered with many variety of fruits (including mangoes) from relatives and friends' garden. Now staying in high rise apartment, how I miss those days.. that's one of the trade-offs for living in a metropolitan city.
It's no doubt mangoes are in season now as you could hear the fruit sellers at the night market yelling out loud peddling their mangoes, trying to outwit each other to get customers to their stall. I'm lucky to have a 'specialised' fruit seller parked outside my apartment, he only make an appearance when it's local fruit season – be it mangosteen, durian or langsat. Talk about being spoilt rotten. When 2 of the mangoes I recently bought were unripe, what better use for them than making Thai Mango Salad.
Thai Mango Salad & Papaya Salad (Som Tam) share pretty much the same ingredients – sweet, sour, spicy and crunchy. I have yet to have a chance to make Som Tam, did not have the luck to get unripe papaya where I live.
This refreshing Mango Salad features thin strips of under-ripe mango tossed in a tangy dressing that features all of the flavours of Thai cooking. The dressing is tart from fresh lime juice, salty from fish sauce, spicy from chilies and sweet from brown sugar.  The finishing touch is a sprinkling of crunchy roasted peanuts before serving. To add more texture and crunch, I add in toasted anchovies.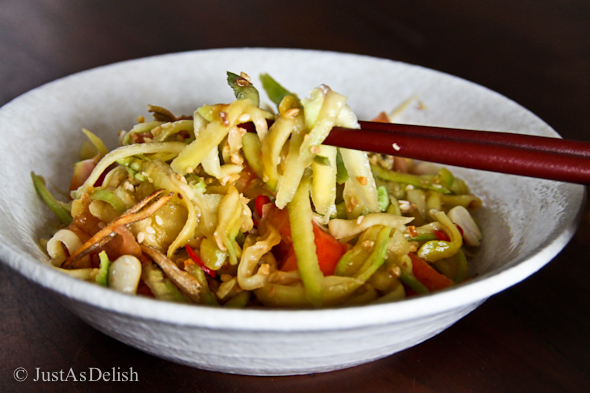 In my hurry to prepare this salad, I forgot to take the instruction photos. So here's a delish, refreshing salad for you to enjoy.

Ingredients
400g Unripe Mango
2 Shallots - thinly sliced
2 Red Bird Eye's Chillies
3 tablespoon Fish Sauce
4 tablespoon Lime Juice
20g Dried Shrimps
40g Peanuts - toasted
3-4 tablespoon Palm Sugar or Brown Sugar
a handful of Dried Anchovies - toasted, for garnishing (optional)
Instructions
Peel the green mango and shred with a zigzag peeler or thinly sliced with a knife.
Soak the mango slices in ice cold water to make it crispy.
Slightly crush the chilies, shallots, dried shrimps and peanuts with a pestle & mortar.
Mix fish sauce, lime juice, and palm sugar in a small bowl.
In a big bowl, add in all the ingredients and toss well.
Garnish with some toasted anchovies. Serve as a side dish.
More Mango Dishes