I went back to my hometown Penang last weekend for the Qing Ming Festival. Qing Ming is when Chinese people visit the graves of their ancestors, to give thanks and honour the forefathers. Young and old pray before the ancestors, sweep the tombs and offer food, tea, wine, chopsticks, joss paper accessories, and "paper gifts" to the ancestors. It is also a time for family from near and far to gather and it was common to see big families having a feast at the grave sites after praying. However over the years, as more young people move to big towns and foreign countries, the numbers of people celebrating Qing Ming have dwindled.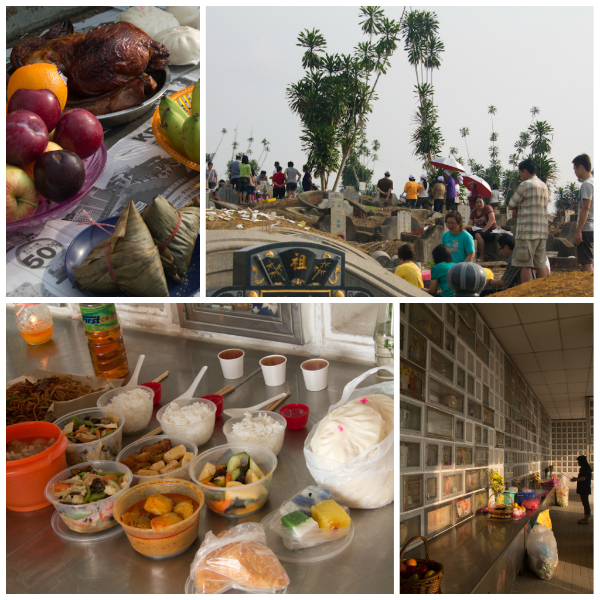 When I was younger, I always see this festival as an obligation – as a granddaugther and later as a daugther. Mainly because I do not like the burning ceremonies involved as it defied my beliefs and my values. This time around, I finally feel deep in my heart the meaning behind Qing Ming. The ceremony is the only way most Chinese know how show their love as children, grandchildren & great grandchildren. Because in their knowledge and tradition, this is their only way to give thanks and to remember their ancestors, and I totally able to respect that.
As with any Chinese festival, food is always the center of the attention. In my family, Jiu Hu Char (Stir FryJicama & Cuttlefish) is a must-have dish that is prepared for all festivals, even Qing Ming. Jiu Hu Char is actually a Nyonya cuisine of the Straits Chinese (Straits born Chinese) with the influence of Chinese and Malay cooking styles. This dish is not only for special festival, we love it as an everyday dish too. My younger sis CH will always 'pre-oder' this dish before her visit to my mama's place and she will be a happy cow with just this dish alone for a meal.
Jiu hu char is a dish of stir fried jicama (sengkuang) with carrots, cuttlefish and dried shiitake mushroom, normally eaten wrapped with fresh lettuce leaves with sambal (Malaysian spicy chili sauce). They can also be eaten plain and go extremely well with rice. Jiu hu char is also one of those dishes that gets better overnight and after multiple reheating.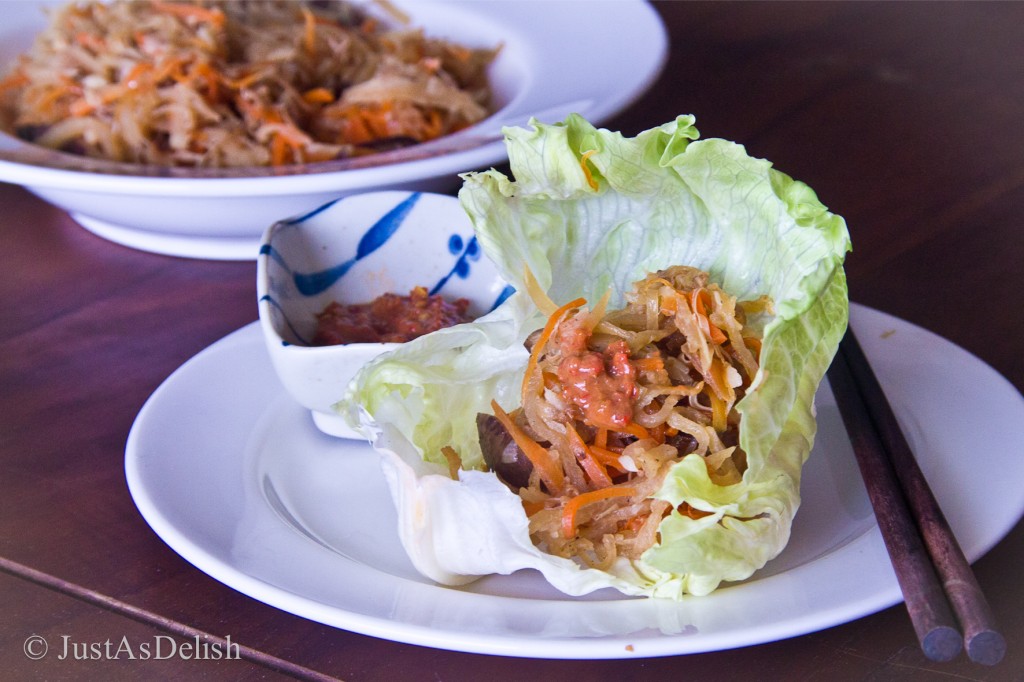 My mother's secret tip to make this an unforgettable dish of jiu hu char is manually slicing the jicama into fine thin threads (instead of using a grater) and cabbage – the secret ingredient. I've prepared this dish myself a couple of times, but it just taste different from my mama's. Just a week for before Qing Ming, I'm happy finally got it right, tasted just like my mama's. I'm proud to finally learnt her trick of the trade to continue on the tradition.

Jiu Hu Char (Jicama & Cuttlefish Stir Fry with Lettuce Wrap)
Recipe type:
Appetiser / Main
Ingredients
5 cloves Garlic - minced
3 Shallots - sliced
50gm Pork - sliced (I omit for my dish)
200gm Jicama / Sengkuang - shred finely
1 Carrot - shredded finely
3 leaves of Cabbage - shred finely
8gm Dried Cuttlefish - shred finely and soaked for 5 minutes
5 small Dried Shittake Mushrooms - soaked in hot water for 10 minutes and thinly sliced
Salt to taste
Instructions
In a wok, heat oil. Saute garlic and shallot until lightly brown and fragrant.
Add pork, cuttlefish, and mushrooms. Cook until they soften.
Add jicama, carrot and cabbage and fry until cooked. Add 100ml water and switch fire to low, cover wok to slow cook for about 20 minutes until water has been almost absorbed and jicama is soft. (the longer you braise it, the more flavourful the dish will be).
Season with salt to taste.
Serve wrapped in fresh lettuce leaves with a side of sambal for a bit of zing.

* Note: The post is meant to be shared as part of my culture and heritage. I do not mean to offend anyone with the photos.
More Nyonya Dishes: